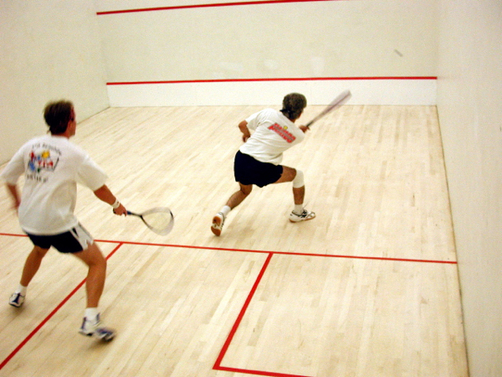 No, I don't mean the vegetable, I mean the sport.
When I tell people that I play squash for Middlebury College, most people nod their heads in polite recognition, but the blank looks in their eyes reveal their unfamiliarity with the sport.
Although squash may not be as prominent as classic American sports like football or baseball, it has roots in as early as 12th century France. What began as a form of entertainment with balls slapped against the walls has evolved into a global sport that has captured the interest of both young and old.
Squash is a racket sport that is played in a four-walled indoor court. The front wall has 2 parallel, horizontal lines: a service line close to the middle of the wall and another line above the "tin." The "tin" is a half-meter metal area above ground area that, if struck by the ball, is considered out. The "tin" is analogous to a net in tennis in that the ball must always be hit above this area. There is a service line on the ground that halves the court, another line creating 2 bottom quarters of the court, and a service box in each quarter. In addition, you must wear special, non-marking shoes to play and wear goggles for safety protection.
A squash ball is made out of rubber and must be "warmed up" before you start playing. If you a hold a squash ball before playing, it will be cold and will not bounce. So before beginning to play or practice, you have to hit the ball several times for the ball to heat up.
In a singles match between two players, a match is comprised of best of 5 games, so you must win 3 to take the match. Each game is played until one player reaches 11 points, and the scoring system is called "point-a-rally," which means that you can win on any player's serve. Either you or your opponent begins the game by serving, and if you win that rally, you continue to serve, alternating sides with each point. Your foot must be in the service box, and the serve must be above the service line and land in the opposite quarter. Each point begins with a serve and then progresses by alternating shots between each player.
Lastly, there are special calls in squash: lets and strokes. Lets and strokes are called after you a hit a shot, but your opponent is unable to retrieve the shot because you are obstructing his/her path to the ball. The difference between a let and stroke is difficult to describe without a demonstration, but when a let is given, the point is replayed, but if a stroke is given, the point goes to your opponent. For example, a let is given if you a hit a shot, but accidentally get in the way of your opponent. A stroke is given if you hit a shot, and it comes straight back at you so that your opponent does not even have a chance to return the ball. The differences between lets and strokes are very nuanced, so it takes experience to know which call to make.
Squash is played at the professional, collegiate, and high school level, but for collegiate and high school, it is more prominent on the East coast, and the New England area in particular. Squash is slowing gaining more prominence as people become more attracted to the exciting, fast pace of the game as well as the great workout.
If you ever have the chance to learn or watch the game, go for it!
This is the bare minimum needed to understand the sport, but if you want to read or watch some squash, check it out here:
Read more
Watch squash!

Written by Amanda Chen,
Marketing Consultant at Inkwhy
Middlebury College Class of 2014