One of the things we've learned from doing business on the phone and in-person is that there are some people out there who simply do not want to talk to you. This does not necessarily mean that they don't like you or that they are "mean" people. They could be introverted, or they could be having a bad day, or they may not be interested in the same things that make you passionate. There will always be a percentage of people out there who do not want to talk to you, and our suggestion is, instead of trying to get them to talk to you: why don't you focus on the people who DO want to talk to you, and speak to the people who YOU want to talk to as well?

So, you could broadcast your ideas to an uninterested audience, or you can hone in on the listeners who are looking for what you have to offer. Think about your offering and how you present that offering... This will impact the size of your following and how they react to you. Everyone has a different personality and list of things that pique his or her interest. Some interests are more popular than others, and some personalities are more magnetic than others. Also, think about what your main goal is when you are interacting with others. If your intent is to sell something to someone and your end goal is to get them to buy something, you will interact with them very differently than if your intent is to find out what is bothering that person and what you can do to help solve his or her problems.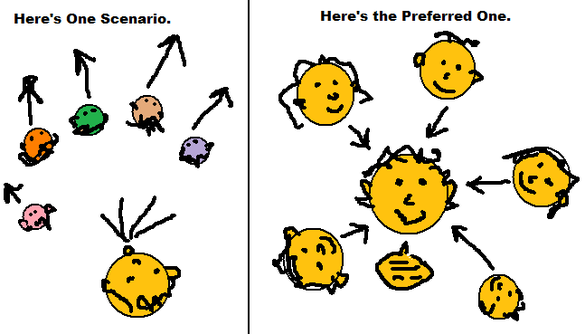 Essentially, OUR goal is to help people connect with others who are like-minded, and specifically to encourage you as business owners, professionals and organization managers to really explore how you can become integrated with online networks to help you better reach YOUR goals. The type of network partners WE want to work with include people who are motivated to grow their business or organization, those who are open to new ideas and willing to learn, and those who want to help others along the way.

You may be wondering why nobody is talking to you, and it may be because you're talking to the wrong audience or because you aren't saying something that interests your audience. Realize that the same way that you can attract more people to talk to you is how you can begin to properly set yourself up online. By identifying what your niche is and who you want to interact with, you can create the best opportunities and showcase your offering in a way that is different from everyone else -- and you can work on engaging with the right audience in the right way.

Stay tuned for more specific ways to make a splash, and soon you'll be asking, "Why do so many people want to talk to me?!"