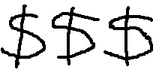 Dollars tend to get people's attention. When you're in a meeting, if you pull a hundred dollar bill out of your pocket, crinkle it around a bit, then you'll likely get some heads to turn. If you offer to give it to someone who comes up with the best idea, you'll also likely get plenty of suggestions.
In this post, we'll discuss several ways you can make money. But before that, we want you to think about... Why do you want to make money? Is it so you can feed your family? So you can buy those shoes that you like? Go on vacation? Pay off your debt? Donate to your favorite charity? Or do you want to invest it back into your business to make more money (and what would you want to do with that "more money")?
Everyone is at a different stage in his or her life with varying levels of needs and desires that tie in directly with financial concerns and goals. If you are a teenager, your goal may be to save up money to buy a car (and you may not need any other money, as your basic needs may be met by your parents and other family members). On the other hand, if you're a parent and trying to support a family with wages that don't quite make ends meet, then your goal may be to find an alternative source of income to supplement your current salary. Another scenario might be that you are a business owner, and you make enough earnings to support a comfortable lifestyle -- but you are devoted to growing your company and you want to take it to the next level. Whatever stage you are in, you can review the list of options below for how you can "make" money -- and you can decide which way(s) will help you get you to where you want to be.
Ask for money (come up with a good reason for someone to give you money, think of who you can persuade, and start asking around): This option likely requires you to give the money back at some future point in time.
Find a task that others are willing to pay you to do (examples include: mowing or raking lawns, shoveling snow, babysitting, tutoring, designing web sites, selling knives): These are all things that we've done ourselves and, in order to exercise this option, you'll need to develop the skills to do it and also find the people who are willing to pay you to do it.
Accept a job where an employer compensates you (this is very similar to the second option just mentioned, but instead of having to find the customers, you may be given clients to work with and trained to do the work by your employer): In this scenario, like in the second one, you generally get paid for the hours that you put in to do the work.
Participate in a network marketing company (sometimes these are known as multi-level-marketing or MLM companies, but there are diverse ways these companies are structured): You get paid to sell a product that a MLM company has developed. Also when you introduce additional sellers to the company, you can earn a percentage of their sales. Varieties of this option include going to informational meetings and bringing potential members to those meetings, conducting direct sales presentations to your target buyer, having home parties where guests buy the product and the host or hostess earns free product, etc. As with options 2 and 3, it's usually the amount of time you spend selling the product and building your team that is directly correlated with your earning potential (some companies are structured to allow participants to earn "residual" income where you can continue to earn from your team sales even when your own sales have slowed down).
Write a book (and sell it): Once the book is written, you can either try to sell copies yourself, or work with a publisher to sell it -- and you can earn royalties, or a percentage of each copy that is sold. This is most similar to option 2 above. Although, if your book takes off, it can also generate alternate sources of income (e.g., sales from bobbleheads of the characters, or revenue from movies like Harry Potter).
Develop affiliate partnerships (create a website and develop some interesting content to share, and introduce "affiliates" to your readers): As with this blog, you can set up one of your own and showcase your expertise to draw in an audience. Once you have built up a following, you can share with them an offering that appeals to them, and you will make money from any sales that are generated from your promotions.
Invest your money (you can put your money into a range of different types of investments): You may have heard that you need money to make money. However, depending on how risky your investments are, you may actually end up losing money rather than earning it. Consider short-term and long-term outlooks when deciding where to invest your money, and please note that we are not giving an investment advice (we are NOT suggesting that you invest or not invest -- that's completely up to you and whoever you are working with who is qualified to provide investment advice).
Build a brand new company (we like this idea the best because that is what we are trying to do here): In this scenario, you come up with a brilliant idea or a solution to a problem that will help a specific audience. Then, you attract that audience to you by spreading the word about your idea or solution once it's available for them to access. Voila! You can then make money from the profits that are generated by the company. As with option 7, there are some risks associated with this option as the money you spend to build this company can end up being lost if nobody wants to use your services or buy your product. However, if you're excited about creating a company and have the motivation to tackle the challenges, then this option may be for you. And if you have no money to start your own company, consider using any of the above steps to supplement your ability to Launch (book for entrepreneurs by Mike Stelzner)! Or if you already have your own company, you may want to think of brand new ideas or solutions that you can add to your current repertoire so that you can expand even further and make that "more money" to will help you attain your ultimate goals.
Robert Kiyosaki in his "Rich Dad, Poor Dad" books has described individuals as being in one of four quadrants: Employee, Self-employed worker, Business owner and Investor. To find out more about what category you fall under, and access some of his great resources, you can register for a free "
Rich Dad PowerPack
." We aren't making any money by sharing these links in this post, but we just think they're valuable tools that can help you expand your vision and grow your business.
Good luck, and see you at the top!