Consider some basic principles on how businesses grow and succeed.
The quality of the customer service and the experience or product you offer are key ingredients to making your business successful.

You can offer the most outstanding customer service and experience/product, but your success will be limited if nobody knows about it.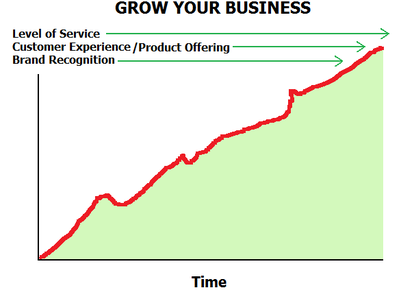 Based on the two aforementioned principles, try to focus your business-building efforts on these three tasks:
Improve your offering to distinguish yourself from your competitors.

Elevate the service level you provide to clients so that your customers are happy.

Leverage your happy customers to spread the word about what you offer and the top-notch service you provide.

While much of the work you do to build your business is based on internal processes and your business acumen, several aspects of the three tasks listed above can be outsourced, which will allow you to focus your time on areas where you are most skilled (e.g., selling, presenting your product/service, or executing the offering). To improve your offering, you may need to call on additional experts in your field. To improve your service level, you may need to hire an assistant and/or other qualified service representatives. As for spreading the word about your business, you can access marketing and social media consultants who can help your brand and offering gain more recognition.
One social media consultant offers advice on how to use Yelp.com to grow a small business (see 7 tips here:
http://www.thegetsmartblog.com/7-ways-to-use-yelp-for-small-business-marketing
). Posting discount offers, getting and responding to customer reviews, expanding your network, and hosting local Yelp events are just some ways you can grow your business through Yelp. Also, consider using a single control panel to manage your fans and link your accounts (e.g.,
http://www.fanminder.com
).
For more info about Yelp, see their FAQ page and Official Blog:
http://www.yelp.com/faq
and
http://officialblog.yelp.com
.